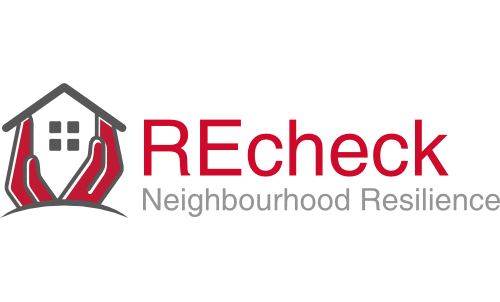 Training of volunteers on assessing the family

preparedness

in disasters
English Translation

from

the original article, written in Bulgarian Language
Asenovgrad
10-11 June 2017
In the area of Belintash, Asenovgrad municipality, a two-day training was organized for the volunteers from the voluntary disaster response team and the youth rescue team of the Bulgarian Red Cross branch in Plovdiv, in the framework of the EU project "REcheck". The aim of the training was to introduce to the volunteers the developed methodology and the electronic tool "REcheck" for assessing the households' preparedness for disaster situations and in the following months to conduct real events with citizens of Plovdiv.
Trainers were Vasil Gurev, Head of the National Voluntary Disaster Response Team of the Bulgarian Red Cross and Peter Yovkov, from the International Cooperation and Programs Department at the National Council of the Bulgarian Red Cross and a project coordinator. The training was attended by Mrs Tanya Georgieva, Director of the Secretariat and specialists from BRC Plovdiv, as well as Mr. Kostadin Peichinov from Plovdiv Municipality, leader of the municipal voluntary formation "Plovdiv 112".
Ms. Georgieva and Mr. Peychinov presented the functions and activities of the two types of voluntary structures - the BRC voluntary disaster response teams and the voluntary formation at the municipality of Plovdiv, with the potential to strengthen further their cooperation in disasters, accidents and crises.
The following topics were covered in the training: awareness of the existing disaster risks, family preparedness for
evacuation or for isolation in their home, the necessary family reserve needed for coping with disasters when utilities are non-functional for a longer period, a family communication plan, disaster kit for immediate evacuation, first aid skills and materials available for first aid, a neighbours plan for mutual assistance and others.
On the first day of the training the participants exercised the methodology for assessment of the household resilience through the elaborated seven thematic module in the form of questionnaires, and in the second part they conducted a series of evaluations entirely in electronic form, using the electronic "REcheck" tool.
Download the original Bulletin